Description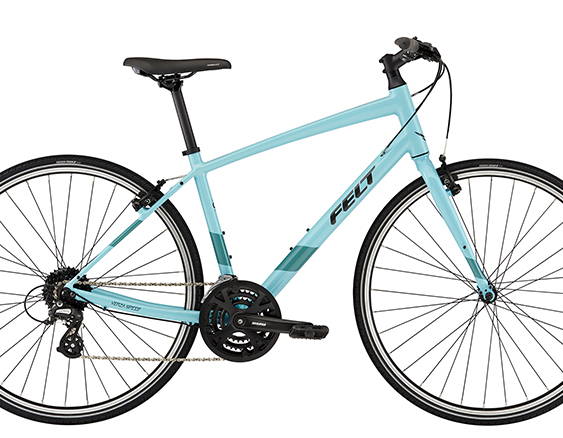 COMFORT-ORIENTED RIDE QUALITY
We designed the Verza Speed to be comfortable from the very first pedal stroke all the way to the end of a long day of riding. It's frame design and construction was inspired by our award-winning endurance road bikes, which means that the Verza Speed will help you pedal efficiently and ensure that you're feeling strong at the tail end of any ride. Select Verza Speed models are crafted from carbon fiber, which makes for a lighter overall bike and a smoother ride quality. Other versions are composed of aluminum, one of the most popular materials for bicycle frames thanks to its long-term durability. The Verza Speed also features an upright riding position and a flat handlebar with ergonomic grips, so you'll always be in complete control.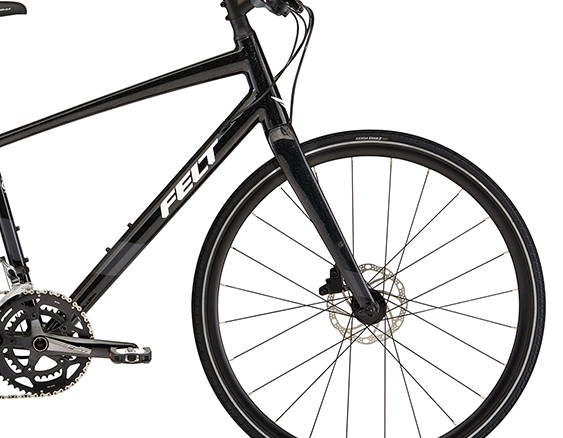 Disc brakes provide greater braking power and modulation in all conditions, especially inclement ones. With added security and better performance, disc brakes are great. Paired with thru-axles, you'll get an optimal riding platform with a safety and ease-of-use that'll deliver miles of enjoyment.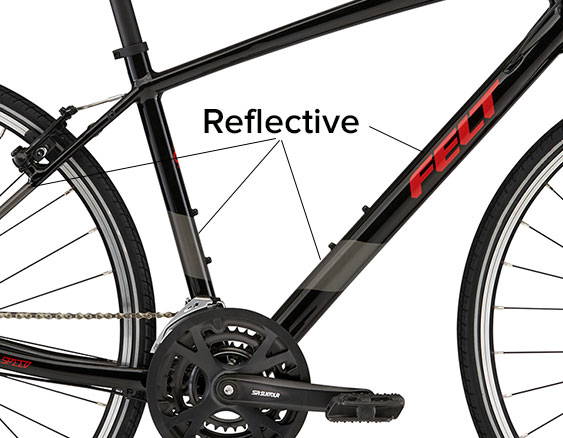 Maximizing your time on the bike means being able to ride at all hours of the day. That's why we incorporated a unique selection of high-visibility aesthetic accents throughout the Verza Speed. Sleek and modern reflectors on the pedals and other components offer added visibility. Unique, reflective paint graphics feature a classically subdued style in bright daylight, yet produce a striking degree of reflectivity in low-light environments. Now you can ride at all hours of the day and beyond, and you'll more easily be seen, to boot.
"If you're in the market for a flat-bar road bike, the only stop you need to make is at your local Felt dealer."
ROAD BIKE REVIEW
"For those who want a speedy commuter but prefer the ride of a flat handlebar, it looks just the ticket."
BIKERADAR
DETAILED TECHNICAL SPECIFICATIONS
VERSION
Verza | 5
SERIES
Verza Speed (A-2.0)
MODEL
Verza Speed 50 Mid-Step
MARKET
NA
PRICE
$ 649
FINISH
Champagne Pearl (Reflective)
MODEL CODE
FB-21A-SPD50ST-CHP-AA
MODEL # M3
BBJEC07
SIZES
4 | XS (47), S (51), M (54), L (56)
FRAME
Felt Verza Speed Mid-Step | F-Lite aluminum
FRAME TECHNOLOGIES
Plain Gauge tubing / Dynaform tubing / Smooth welding
BOTTOM BRACKET TYPE
Threaded | BSA 68mm
BRAKE TYPE, REAR
V-brake
DERAILLEUR HANGER TYPE, FRONT
Band | Ø31.8mm
DERAILLEUR HANGER TYPE, REAR
Standard Mount | QR 135 MTB, replaceable, aluminum
HEAD-TUBE TYPE
1.125″
PROTECTOR TYPE
Clear vinyl for chain slap protection
ROUTING TYPE
Internal | mechanical specific
SEAT POST / CLAMP TYPE
Standard | 27.2mm post, 31.8mm clamp / 6061 aluminum, steel bolt
WHEEL TYPE
700c
TIRE MAX (CLEARANCE)
35mm (4mm)
FORK
Felt Verza Speed | Hi-Ten steel
HEADSET
ZS (NO.10)
AXLE, FRONT
QR 100
AXLE, REAR
QR 135
FORK TECHNOLOGIES
Welded construction
BRAKE TYPE, FRONT
V-type
FORK OFFSET
50mm
HEADSET SPECIFICATION
Top Cap: stem integrated / Top Cover: stem integrated / Top Cover (standard stem): Felt integrated nylon fiber / Bearings: FSA integrated sealed cartridge, MR121 upper, MR168 lower / Spacers: Felt integrated nylon fiber, aero (20mm, 10mm, 2x5mm) / Compression Device: FSA ACR / Compression Ring: FSA H2081A / Crown Race: fork integrated
DRIVETRAIN
3×8-speed
SHIFTERS
Shimano Acera EF500 EZ Fire Plus
DERAILLEUR, FRONT
Shimano Tourney TY710
DERAILLEUR, REAR
Shimano Altus M310, medium cage
CRANK
SR Suntour XCC, 48/38/28T
BOTTOM BRACKET
SR Suntour XCT SQS, 122mm
CASSETTE
Shimano HG200, 12-32T
CHAIN
KMC X8
PEDALS
Comfort design, nylon body
CRANK LENGTH
XS: 165mm / S, M: 170mm / L: 175mm /
BRAKE LEVERS
Shimano Acera EF500 EZ Fire Plus
BRAKE CALIPERS
Tektro 918AL, V-type
WHEELS
Double-wall aluminum, Presta valve
TIRES
Kenda Khan II, 30TPI, reflective stripe, wire bead,700 x 35c
RIMS
Aluminum, double-wall
RIM DEPTH
18mm
RIM WIDTH, INSIDE
17mm
HUB, FRONT
Aluminum Road Disc, J-Bend, 32h, QR 100, single-sealed
HUB, REAR
Aluminum Road Disc, J-Bend, 32h, QR 135, 10-speed, single-sealed
SPOKES
J-Bend, 2.0, stainless steel, black
NIPPLES
Brass, black
HANDLEBAR
Flat bar, aluminum, 10° sweep,
STEM
3D cold-forged aluminum
GRIPS / TAPE
Felt ergonomic, soft density
HANDLEBAR CLAMP DIAMETER
31.8mm
HANDLEBAR WIDTH
XS, S: 600mm / M, L: 620mm
STEM CLAMP DIAMETER
31.8mm
STEM ANGLE
+17°
STEM LENGTH
XS: 70mm / S, M: 80mm / L: 90mm
SEATPOST
Aluminum, single-bolt, micro-adjust, Ø27.2mm
SADDLE
Selle Royal Essenza Gel
SEATPOST OFFSET
16mm
SEATPOST LENGTH
350mm
SEATPOST PARTS & TECHNOLOGIES
EXTRAS
Reflective decals
WEIGHT
26.18 lb, 11.9 kg
WEIGHT DISCLAIMER
The most accurate way to determine a product's weight is to have your local dealer weigh it for you. Because we understand that weight is an important metric, we strive to list it when possible. When listed, weight is based on a single sample in a specific size and with all items as shown in the photo. It is not an exact indication of what your bike or frame will weigh, as there are tolerances in many variables involved (size, finish, hardware, components, and accessories). Felt continues to be an industry leader in weight and performance.
SPECIFICATION DISCLAIMER
Specifications subject to change without notice.
RIDER INSEAM
CM / INCHES Measured from crotch to floor.

47/48cm
51cm
54cm
56cm
58cm
61cm

152.4 -167.6 cm
5'0"-5'5"

167.6 -172.7 cm
5'5"-5'8"

172.7 -177.8 cm
5'8"-5'10"

177.8 -182.8 cm
5'10"-6'0"

182.8 -187.9 cm
6'0"-6'2"

75.1 – 76.2 cm
29.6''-30.0"

77.9 -82.0 cm
30.7"-32.3"

81.0 -85.0 cm
31.9"-33.5"

84.0 -87.1 cm
33.1"-34.3"
VERZA SPEED (A-2.0)
| | | | | | | |
| --- | --- | --- | --- | --- | --- | --- |
| | XS | 47cm | S | 51cm | M | 54cm | L | 56cm | XL | 58cm | XXL | 61cm |
| (A) HEAD TUBE ANGLE | 70 | 70 | 70 | 70 | 70 | 70 |
| (B) SEAT TUBE ANGLE | 74 | 74 | 74 | 74 | 74 | 74 |
| (C) TOP TUBE LENGTH (EFFECTIVE) | 540 | 555 | 570 | 585 | 600 | 620 |
| (D) HEAD TUBE LENGTH | 140 | 160 | 180 | 200 | 220 | 240 |
| (E) SEAT TUBE LENGTH (CENTER TO TOP) | 350 | 400 | 450 | 500 | 550 | 600 |
| (F) STAND OVER HEIGHT | 627 | 663 | 710 | 756 | 800 | 843 |
| (G) BOTTOM BRACKET DROP | 70 | 70 | 70 | 70 | 70 | 70 |
| (H) REAR CENTER | 445 | 445 | 445 | 445 | 445 | 445 |
| (I) FRONT CENTER | 613 | 629 | 645 | 662 | 678 | 699 |
| (J) WHEELBASE | 1048 | 1064 | 1081 | 1097 | 1114 | 1135 |
| (K) FORK LENGTH | 393 | 393 | 393 | 393 | 393 | 393 |
| (L) FORK OFFSET | 48 | 48 | 48 | 48 | 48 | 48 |
| (M) STACK | 555 | 574 | 593 | 612 | 631 | 649 |
| (N) REACH | 381 | 390 | 400 | 410 | 419 | 434 |
VERZA SPEED ST (A-2.0)
| | | | | |
| --- | --- | --- | --- | --- |
| | XS | 47cm | S | 51cm | M | 54cm | L | 56cm |
| (A) HEAD TUBE ANGLE | 70 | 70 | 70 | 70 |
| (B) SEAT TUBE ANGLE | 74 | 74 | 74 | 74 |
| (C) TOP TUBE LENGTH (EFFECTIVE) | 540 | 555 | 570 | 585 |
| (D) HEAD TUBE LENGTH | 140 | 160 | 180 | 200 |
| (E) SEAT TUBE LENGTH (CENTER TO TOP) | 350 | 400 | 450 | 500 |
| (F) STAND OVER HEIGHT | – | – | – | – |
| (G) BOTTOM BRACKET DROP | 70 | 70 | 70 | 70 |
| (H) REAR CENTER | 445 | 445 | 445 | 445 |
| (I) FRONT CENTER | 613 | 629 | 645 | 662 |
| (J) WHEELBASE | 1048 | 1064 | 1081 | 1097 |
| (K) FORK LENGTH | 393 | 393 | 393 | 393 |
| (L) FORK OFFSET | 48 | 48 | 48 | 48 |
| (M) STACK | 555 | 574 | 593 | 612 |
| (N) REACH | 381 | 390 | 400 | 410 |